The ŌT | Ōtaki Tauwhāinga-toru | Ōtaki Triathlon, is a sprint distance triathlon, with a 400m pool swim, 20km road ride, and 5km off-road run, taking place 27 November 2022.
The ŌT includes aqua bike, aqua run, and e-bike options.
You can enter The ŌT as an individual or as part of a team.
Event Schedule
0600: Registration opens (*revised time)
0545: Sunrise
0620: Transition opens (*revised time)
0730: Registration closes
0745: Transition closes
0750: Racing briefing from race director, technical official and road management
0800: approx. First person in the water
0930: approx. First finisher
1000: approx. Last biker in
1001:

approx. L

ast runner out, open transition for people to take bikes out
1045:

approx. L

ast runner in
Rules – To ensure your own safety and the safety of others...
---
Follow instructions from officials and marshals.

Only athletes are allowed in the transition area, you'll need your race number to get in and out of this area.

No headphones or music devices are to be worn, to ensure you are aware of your surroundings and other road users.

You can only use your phone to track your progress but it must not be used for any other purposes.

Be kind, courteous, and supportive to your fellow participants.

Please do not litter anywhere around the course.
Swim
---
No overtaking in the lanes. If you catch up to the person in front tap their toes close to the end of the lap. If your feet are tapped let the person behind you start the next lap ahead of you.

No backstroke, any other stroke is allowed.

No diving or tumble turns.

You'll be grouped according to the swim time you've registered with to ensure good flow.

No assistance devices – pool floats, flippers, or paddles.
Bike


Watch our bike route video to help with your training...
https://youtu.be/9UqO8M2pOSA
---
When on your bike you must wear a helmet and it must be done up. No helmet – no ride.

Helmets must be done up before un-racking and after re-racking your bike.

You may not mark your bike racking with any distinctive material ie balloons or similar.

No roads will be closed during the race. You must obey all road rules, at all times. Marshals will not be able to stop traffic to give you the right of way.

No riding in the transition area, there are clear mount and dismount lines. Get off your bike after the mount line when exiting and before the dismount line on entry.

Race number must be visible to the rear.

No fix wheeled bikes, you must have a working rear and front brake.

E-bikes are only allowed in the e-bike categories, not to be used in any other race.
Run
---
Race number must be visible to the front.

Follow directions from marshalls.
FAQ
---
What equipment do I need?
To take part in the triathlon the minimum equipment needed is togs, shorts, tee-shirt or vest, bike, helmet, and running shoes. Most people use goggles for the swim.
Where do I get changed?
Pre and post-event there are changing rooms and toilets at the Ō
taki pool. During the race, you'll need to change in the transition area. It's best to wear your togs then put your shorts and shirt over the top. There is no nudity allowed in transition. Showers and changing rooms at the pool will be available for use after the event.
Where do I put my equipment and clothes for the other legs?
There will be racking for your bike – hook the seat over the crossbar. You'll then have the space under your bike to lay out your gear. No large bags or boxes are allowed under the bikes. There will be an area to leave extra gear, but we encourage you to leave anything you need for before or after the event with whānau or friends that have come to support you as there may be a delay getting back into the transition area after you've finished.
How do I attach my race number?
You'll be given two race number squares, these aren't to be worn during the swim. Pin one number to the front of your shirt or vest and the other to the back, it is essential to wear these during the bike and run.
What kind of bike can I use?
You can use most types of bikes, except a fixed rear wheel bike. Your bike needs to be safe and working, including brakes. No safety checks will be done by marshals or officials on the day so make sure you know everything is working for your own and others' safety.
A visual check will be completed as part of racking your bike in the transition area.
How do I know where to go?
There will be signage around the transition area, the bike, and run legs to guide you. It's your responsibility to know the course, maps will be added to the website and will be displayed at registration on the day. Familiarise yourself with the courses, there will be training and familiarisation sessions available in the lead-up to the event. Keep your eye on our social pages and website or ask at Ōtaki Pool or Coastlands Aquatics Centre reception for information.
What happens on the day?
When you arrive sign in at the registration table, between 5.30–7.30am. You'll be given your race pack which will include your race numbers to attach to your shirt (front and back) and numbered stickers for your helmet and bike. Your race number will also be written on your hand.
Then attach your numbers to your bike and helmet before taking them to the transition area.
With your helmet on, take your bike to the transition area, for racking. Your numbers will be checked and there will be a visual look over your bike. You'll then rack your bike and lay out your equipment for the other legs. Familiarise yourself with where you need to go for each leg, then chill and take in the atmosphere and prepare for your start.
What training do I need to do?
We will be holding training sessions and familiarisation days, prior to the event. Find out more details by talking to our friendly pool reception team or contacting Ōtaki Pool (06) 364 5542 or Coastlands Aquatic Centre (04) 296 4746.
You need to be able to do the distance for each leg, you can walk/run the run if you wish, this is a great event to give you the motivation to get fit or for training. Likewise, it's a great event for those seasoned triathletes kicking off their 2022/23 season.
What happens if I get a flat tyre or similar out on the bike leg?
Officially it is your responsibility to fix any mechanical issues during the event. If you are near a marshal, please let them know. We will have people out on the course that will be able to help if they are near you. If you can assist another participant, we'd like to encourage you to do so, please.
What if I have to pull out of the race once I've started?
Notify the closest Marshal, they'll check if you need any medical or other assistance. Then you'll need to hand in your timing chip to the race official back at the transition area.
If you see someone that needs assistance on the race-course and there isn't a marshal nearby, please ensure there is someone with them if needed, and then ride or run to the next marshal and inform them.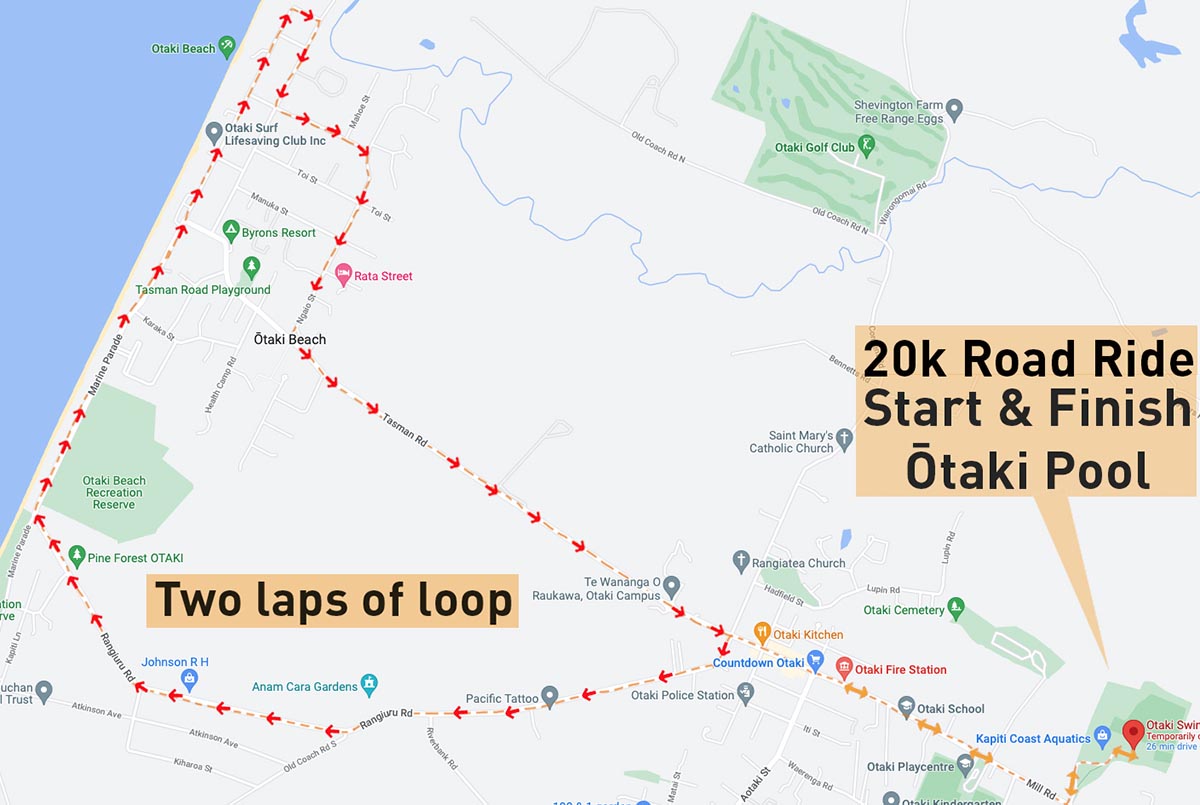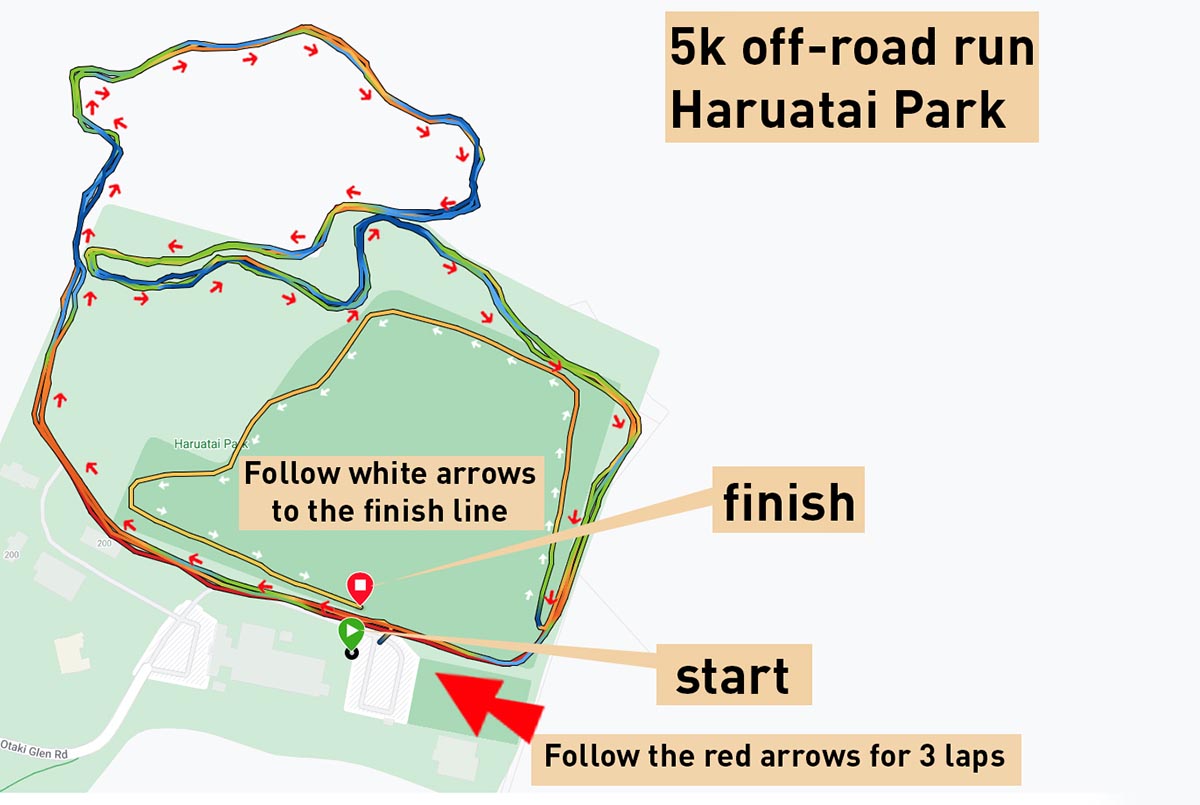 Event information
Sunday, 27 November 2022

Haruatai Park
Mill Road
5512 Ōtaki
New Zealand
Registration is closed